Aaron T. Ford
Vice President – Corporate Security & Properties
PSEG Services Corporation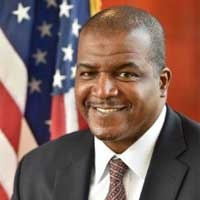 Aaron T. Ford was named vice president – corporate security and claims in November 2015. Mr. Ford is a part of PSEG Services Corporation's senior leadership team.
He is responsible for developing, and effectuating PSEG's enterprise-wide strategies for homeland security; asset protection; business continuity and crisis management; "OPSEC" or Information Security, including electronics, forensics, and litigation support; physical security programs; security regulatory compliance; intelligence acquisition and analysis; law enforcement and intel agency liaison at the most senior levels and security policy-making. In addition, Mr. Ford has responsibility for security at PSEG's nuclear facilities. Mr. Ford also provides executive leadership and direction to PSEG's Corporate Real Estate function including; Portfolio Strategy, Transactions and Investments, Surveys and Mapping, Portfolio Operations, and Facility Management.
Mr. Ford has more than 30 years of experience with the FBI, where he had oversight of all investigative and administrative matters for most of New Jersey, including five satellite offices as the Special Agent in Charge at the Newark division. He worked closely with other law enforcement agencies in responding to priority threats, oversaw budgets and established strategic planning and crisis preparedness for the federal government during Super Bowl XLVIII in New Jersey. Previously, Mr. Ford had been the Special Agent in Charge, Memphis division, and served several stints at the FBI headquarters, where he oversaw field office and headquarters compliance inspections, and led shooting incident review teams. He has a law degree from Rutgers School of Law and a Bachelor of Science-Criminology from Tennessee State University.