EUCG 2022 Fall Workshop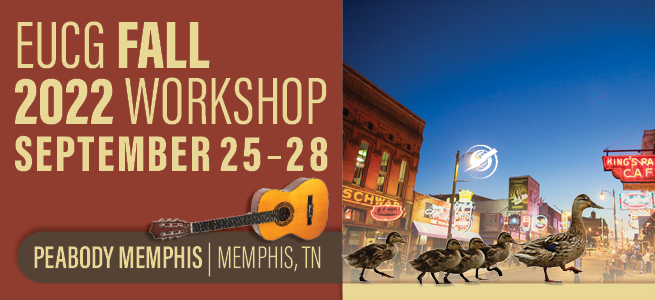 EUCG 2022 Fall Workshop
The EUCG Fall 2022 Workshop is headed to Blues City for the best in benchmarking, best practices, emerging issues, and more! Join us September 25th – 28th at the historic Peabody Memphis for our semi-annual workshop, and benefit from significant opportunities for networking and idea exchange with industry thought leaders from around the globe against the backdrop of legendary Memphis, Tennessee.
The EUCG Spring 2022 Workshop in San Antonio, was our first time meeting back in-person for over two years, and attendees were excited to be networking with new colleagues, and seeing old friends again! We are looking forward to giving our members another great workshop experience this fall!
Registration
Registration for the Fall 2022 Workshop is available online. The EUCG Board of Directors made the decision to have this workshop in-person, but to still offer a virtual component in order to include as many EUCG members as possible.
For the 2022 Fall Workshop, a registration fee of $1,150.00 per person will be paid for in-person attendance. Companies in each committee will be given the option to add the virtual component for an additional $250.00. Once your company has paid the virtual registration fee for your committee, any individual at your company may register and participate at no additional fee in the committee sessions virtually. Additional in-person attendees will pay a fee of $1,150.00.
If your company plans to attend virtually only, there will be a one-time registration fee of $1,400.00.
We are again excited to be able to host this hybrid workshop, which we know will bring the best of both worlds and maximize participation.
The in-person registration includes breakfast, lunch, and breaks for the duration of the event, the Welcome Reception on Sunday, September 25th, and the Monday Evening Networking Event.
Registration is now closed, but members can contact Don Kaiser or Lindsay Stranzl to register virtually.
Program Information (All Times Central Standard)
Sunday, September 25th
Our 2022 Fall Workshop Event Registration & Welcome Reception will take place from 5:00 pm – 7:00 pm in the Hernando Desoto Room & Club Bar. Please join us and come say hello to fellow attendees!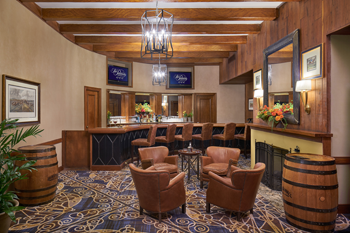 Monday, September 26th
8-9am
Breakfast
9-10:30am
General Session, Membership Meeting & Keynote Panel Discussion
11am
Committee Sessions Begin
Monday Night Networking Event
Please join us from 6:30 pm – 8:30 pm for our Networking Reception & Dinner in the Peabody Rooftop and Skyway.
Click here for the full EUCG Fall 2022 Workshop Agenda
General Session, Meeting of the Membership & Keynote Speaker
Monday September 26th, 9:00 am – 10:30 am
EUCG is honored that the Mayor of Memphis, Jim Strickland will be welcoming the membership and kicking off our General Session!
Opening Remarks & Presentation of the EUCG 2023-2024 Board of Directors:
Stephanie Maggard, PG&E, EUCG President
Keynote Speaker:
Matt Crozat
Executive Director for Strategy & Policy Development, Nuclear Energy Institute
"The Energy Policy Landscape for the 2020s and Beyond"
Companies, states, and now the federal government have been trying to encourage the transition to a low-carbon energy future. The recently passed Inflation Reduction Act creates powerful new incentives for the economy to move towards lower carbon energy options which could dramatically change energy mix over the next twenty years. This presentation will describe the new incentives enacted in this law as well as the broader shifts in the power sector.
Fall 2022 Committee Agendas
The workshop agendas are being added to each day, and will be updated as they evolve. We encourage attendees to view sessions from multiple committees to gain a well-rounded view of EUCG's offerings.
Committee Agendas
Committee Educational Tours
We are excited that both the Nuclear and Fossil Committees will be offering plant and facility tours to their committee members.
The Nuclear Committee will be taking a half day tour on Tuesday, September 27th of NSRC (National SAFER Response Center).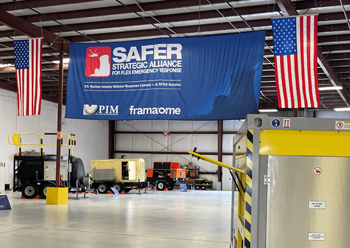 For additional tour information.
.
The Fossil Committee will also be taking a half day tour on Tuesday, September 27th of TVA's Allen Combined Cycle Power Plant.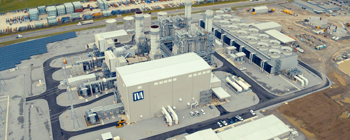 For additional tour information.
Hotel Reservation Information
We are excited to have our Fall 2022 Workshop at The Historic Peabody Memphis Hotel. With a style and tradition befitting one of Memphis' grandest, most legendary hotels, The Peabody Memphis offers a magnificent bridge between the "Blues City's" celebrated past and cosmopolitan present.
Known as the "South's Grand Hotel," The Peabody is legendary for its charm, elegance, gracious hospitality and rich history. This Memphis icon, opened in 1869, is listed on the National Register of Historic Places and is world-famous for its five resident ducks, who march daily through the lobby at 11 a.m. and 5 p.m.
Nestled in the heart of downtown, the historic, AAA Four-Diamond hotel offers a one-of-a-kind experience just blocks from Beale Street, the Memphis Rock 'n Soul Museum, Fed-Ex Forum, Sun Studio, the Orpheum Theatre, and the Renasant Convention Center.
The Peabody Memphis
149 Union Avenue
Memphis TN 38103
1-800 -732-2639
EUCG has reserved a limited block of discounted hotel rooms at The Peabody Memphis for Fall Workshop attendees. Hotel reservations must be made by September 6, 2022 to access the group rate.
Book your Group Rate for EUCG Fall Workshop
Group Rate: $240.00
Book your EUCG Government Rate
Government Rate: $123 or the prevailing rate at the time
The Peabody Memphis COVID Safety Protocols
Event App
The event app has been launched! If you are currently registered for the workshop, you should have received an invite directly from Crowd Compass to download the app. If you have not received an invite, contact Lindsay Stranzl at lstranzl@eucg.org and she will set you up.
EUCG will be using our event app to provide you with the latest program information directly to your mobile device! This app can be used if you're in person, or if you're virtual. You'll be able to use it to keep up to date with the latest committee agendas, speakers, attendees, and all other important information. We will send out push notifications for any changes to the agendas, schedules, speakers or meeting spaces.
Tutorials and instructions can be found below
*If you have previously downloaded the app, and used it for our last workshop, you can go directly into the app, and follow these instructions:
Refresh your app
Go into the upper left-hand corner, to the "hamburger" (three little lines):

Tap the hamburger
You will be given an option to "Switch Event" – choose this option.

Select: EUCG Fall 2022 Workshop

Once you do this, you can tap the event, and depending on your settings, and operating system, it might prompt you to enter the following:

First Name
Last Name
Email Address

Enter those, and for most people it will confirm your attendance, and give you immediate access to the app, and your profile – which you can update, if you'd like.

In some cases, it will send you a verification email code to enter (but this is not common).

If you have any issues at all, please reach out to Don Kaiser at kaiser@eucg.org, or Lindsay Stranzl at stranzl@eucg.org
We will also be able to assist you with set-up during registration on Sunday, September 25th.
Virtual Workshop Technology
EUCG is committed to providing every attendee the best workshop experience possible in this hybrid setting. As we did for the previous hybrid workshop, EUCG will again be using WebEx to host the Fall 2022 Workshop. We know many of you are already familiar with, and use WebEx. We have been actively working with each committee to prepare meeting hosts and presenters, and will be offering the same training to any attendee who would like to be walked through the basics of a WebEx meeting.
WebEx training sessions will be held on Tuesday, September 20th at 2:00 pm EST. Training session invites will be sent to each registrant via email. Training is not required, but we encourage anyone unfamiliar with WebEx to attend to enhance your virtual workshop experience. If you have any other WebEx questions, or technical concerns, please contact Don Kaiser (kaiser@eucg.org) or Lindsay Stranzl (lstranzl@eucg.org). Our goal is to make sure that everyone who is attending is comfortable and confident with WebEx, and that each session flows seamlessly and smoothly.
If you cannot attend training, but would like a quick tutorial on WebEx basics, the following links will walk you through anything an attendee would need to know: